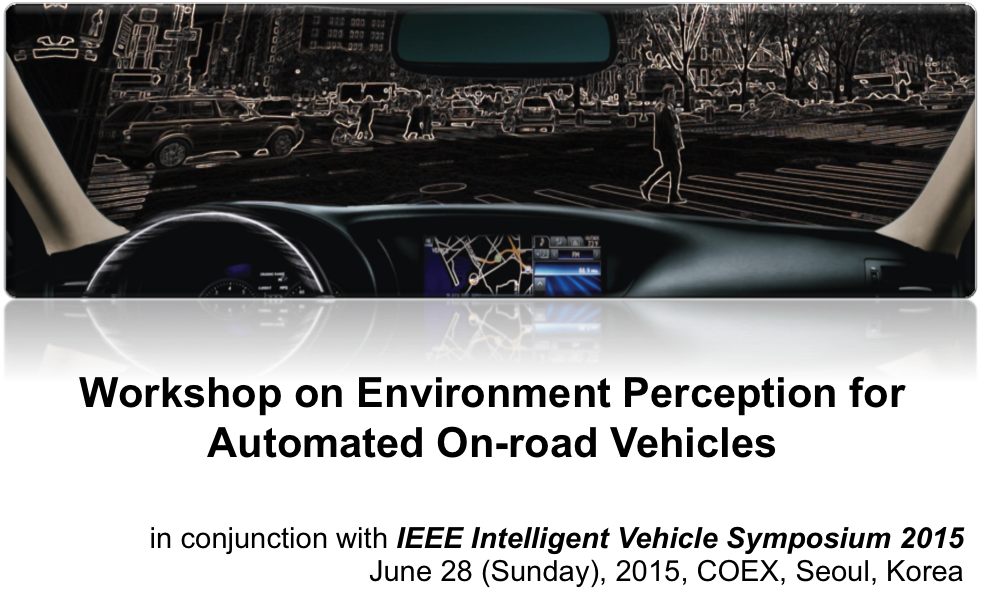 Technical program is accessible from here
Organizers
Dr. Danil Prokhorov, Toyota Research Institute North America, USA (dvprokhorov@gmail.com)
Dr. Chunzhao Guo, Toyota Central R&D Labs., Inc., Japan (czguo@mosk.tytlabs.co.jp)
Supported by: IEEE ITS Society Nagoya Chapter, IEEE ITS Society Tokyo Chapter
Description
Next generation cars will be highly or fully automated on regular roads. This could greatly improve the driving comfort and, more importantly, the road safety, thereby potentially saving over a million lives each year. Of all the senses, environment perception is known to be a major challenge in development of such technologies for automation of driving on daily traffic. While finding objects of interest on well-structured roads is already available in modern vehicles, it remains an unsolved problem in terms of system performance and reliability, e.g., processing information in the midst of noises brought by various illumination and weather conditions, reconstructing the scene geometry for different road types, and interpreting as well as predicting the behaviors of all traffic participants, etc.
Though this workshop is focused on highlighting advances in industrial R&D in this area, we also welcome contributions from academic researchers and governmental organizations, national research labs, etc.
Relevant topics
Perception using sensor fusion
Relevant object detection and tracking
Road and road boundary recognition
Traffic lights and signs recognition
Rare situation recognition, e.g., animals, special vehicles
Interpreting driving scenes and planning safe paths
Other topics of relevance to environment perception and automated vehicles.
Program
Technical program is accessible from here
Important Dates & Submissions
Electronic submission of the workshop papers is due by

February 28, 2015

at https://its.papercept.net. Submission code of the workshop is "

w9dix

".
Notification of acceptance is due by April 3, 2015
Final paper submission is due by May 1, 2015
Workshop paper is limited to a total of six pages including references. A maximum of two supplementary pages is permitted at an extra charge.
Peer-reviewed workshop papers will be included in the Conference Proceedings.
Presentations without submitting a full paper
Authors intending to present research progress on environment perception at the workshop without submitting a full paper are invited to submit an extended abstract.
The extended abstract is limited to 1-2 pages of A4 size (including figures), and should be sent to the organizers via email before

April 30, 2015

.
The extended abstract must be clearly reflect the contents of the paper, and accompanied by the following information: Title of paper; Name of author(s); Affiliation(s); Abstract; Corresponding author (Name, Affiliation, E-mail address).
The Organizing Committee will review the extended abstract. Accepted papers will be presented in an oral presentation at the workshop.
Extended abstract will not be included in the Conference Proceedings; however, they will be distributed to attendees in electronic format.
Sponsors
IEEE ITS Society Nagoya Chapter
IEEE ITS Society Tokyo Chapter